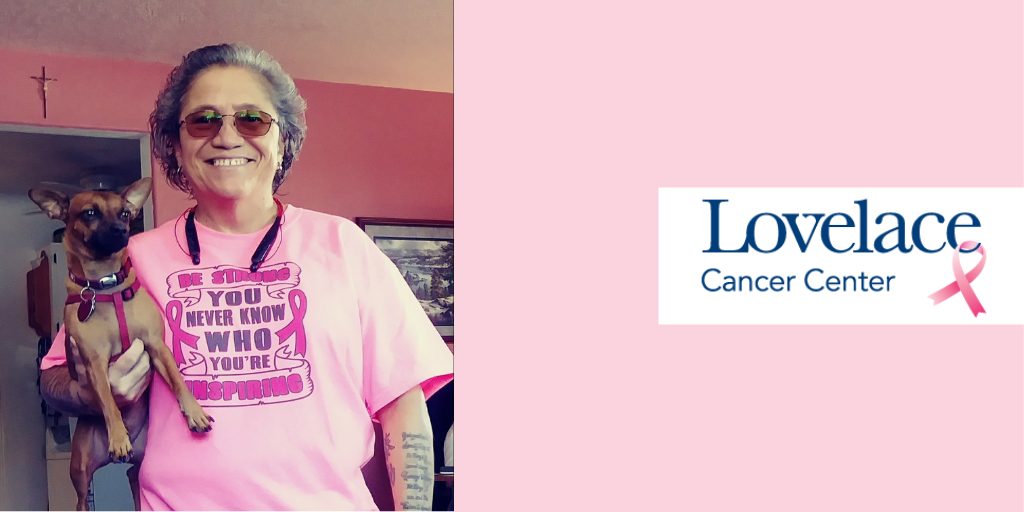 Bernadette G. was never one to perform routine breast self-exams or maintain routine doctor visits if she could avoid it, but when a close friend was diagnosed with breast cancer, Bernadette began to take a more vigilant approach to her health. She began performing self-exams regularly and not too long into this new habit, Bernadette felt a rush of anxiety wash over her when she noticed a small, marble-like lump on the lower part of her left breast.
Panicked, and not sure what to do next, Bernadette told her family immediately and scheduled an appointment to meet with a doctor. The radiologist performed a biopsy which confirmed her fear – on February 12, 2018, Bernadette was diagnosed with breast cancer.
"Just hearing the word 'cancer' freaked me out because my father passed away from kidney cancer," Bernadette explained. "But ready or not, I had to figure out a treatment plan. My friend that was diagnosed with breast cancer before me, referred me to Lovelace and said that the doctors, nurses and other staff were fantastic, so I went for it."
Bernadette met with an oncologist at Lovelace Women's Hospital and discussed possible treatments options for what was originally thought to be Stage 2 breast cancer. She was told she'd need surgery to remove the cancerous masses and then radiation. While there's not a lot of positives to come out of a cancer diagnosis, Bernadette was happy she wouldn't have to undergo chemotherapy and potentially lose her hair. Like most women, Bernadette's hair was part of her identity and the thought of losing it on top of battling cancer sounded entirely overwhelming.
Unfortunately, when Bernadette's surgeon, Dr. Calvin Ridgeway went in to remove the mass, he found it had spread and she needed 14 lymph nodes removed. With the metastasis, her cancer was reclassified as Stage 3. Dr. Ridgeway and Bernadette's team of oncologists at Lovelace Women's Hospital developed a new treatment plan, which included eight chemotherapy sessions and 30 radiation treatments.
"I was devastated," Bernadette remembers. "I'm going to be honest, the hardest part of having breast cancer was the fact that I was going to lose my hair. A girl's hair is everything. But after I came to terms with the fact that I would be losing my hair I decided to just cut and shave my head bald and let it grow back naturally. After years of keeping up with dying my hair, now I am gray."
The physical and emotional tolls of breast cancer continued to test Bernadette, but she prevailed. At this point in her journey, she was faced with another obstacle – the financial burden of cancer treatment.
"When I got diagnosed in 2018, I had just started a new job and had not met my deductible, so I needed to come up with the money for my surgery, bills and other expenses," Bernadette said. "I was advised by a navigator to apply for the Anita Salas Memorial Fund, which helps people in need pay for things like cancer bills, meds and transportation. I applied and received the funding which helped pay for some of my bills. This was great because now I didn't need to worry or stress about the financial part and I could just concentrate on kicking cancer's butt and getting my health back in order."
Bernadette also found a program at Lovelace Women's Hospital to help her emotionally cope with treatment and all that comes with it.
"The Healing Touch therapy, here at Lovelace, is another program that I am fully vested in," Bernadette proclaimed. "It's an energy-based therapy which helps me relax and helps my body, mind and spirit. The therapist asks me about my stress level and what my intention will be for my session. For example, I would say I need help to let go of things, or I need help getting grounded again. And that's what the therapist would work on. I love it!"
Bernadette took advantage of and enjoyed many resources available to her, but she believes the main thing that helped her through diagnosis and treatment was her attitude.
"Attitude is very important," Bernadette said. "You need to stay upbeat. Don't be down, sad or beating yourself up or your recovery will last long. I stayed positive. I stayed upbeat and kept the faith. And I recovered in great time."
Her advice to others in her position would be to stay active, as best you can, and listen to your body.
"If you're tired, then rest," Bernadette advised. "But if you have the energy, do things that make you happy. Spend time with the people that lift you up. You will have more better days than bad days if you stay positive. You bring the attitude, but a caring team is important, too. I would recommend Lovelace to everyone!"
Bernadette is a breast cancer survivor who wants to help others survive this disease. Call 505.727.6900 to schedule your mammogram today.