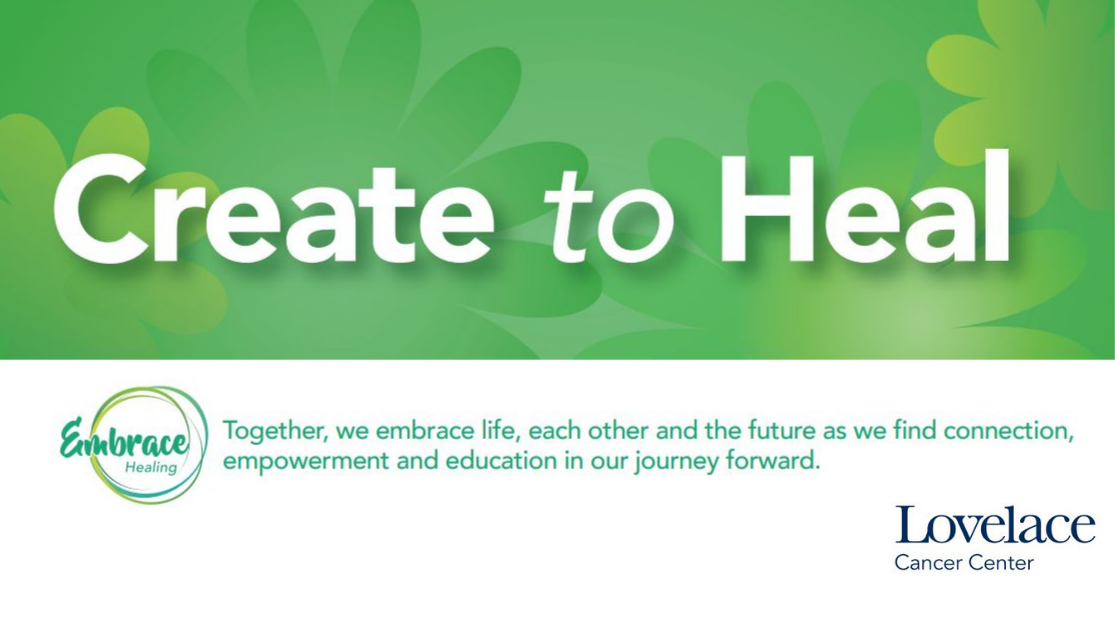 "This class makes me happy!"
"This workshop is a beautiful experience."
"First class was wonderful. Would attend again and again! Eager for our next meeting."
Can creativity influence the healing process? It most definitely can.
Lovelace Cancer Center offers a free creativity class that uses all forms of art, music, creative writing and meditation to relieve stress.
Create to Heal Compassionate Care is a workshop that works with cancer and chronic pain patients, and their family members and healthcare providers, to relieve stress and bring joy and peace.
The program includes a variety of healing practices, such as guided meditation, visualization and mindfulness techniques, all forms of creative writing, the color and motion of art, and uplifting and soothing music.
Create to Heal uses of all forms of art to break down the cycles of stress and pain, including what founder and CEO Patricia Varga calls, "the art of scribbling and doodling."
"Scribbling and doodling is the cornerstone of any creative practice," Varga said. "It gets you out of your head and into your heart where healing begins. Doodling on large pieces of paper with your favorite pens is a meditation in itself that connects you to you and that place of limitless possibilities, where creativity, wisdom and healing can occur."
"Creativity inspires change," Varga explained. "It bridges the gap between where you are, where you want to go and who you want to be."
Patients and their caregivers can expect a relaxing, enjoyable environment at a Create to Heal class, according to Varga.
"I remind everyone that they are born creative, and all they need is a little coaching and prompting," Varga explained.
"Patients can expect to be in a very safe environment with others who are delightful and caring. Everyone listens carefully to each other and honors each other. What we share is very inspiring and uplifting."
Each participant receives a Create to Heal book— a hybrid between a journal, art book and workbook.
"I call it a 'strength' book that helps people to tap into their resilience, courage and ability to heal," Varga said.
Experiencing art in a way that enables you to communicate with your inner-most being is key to the program's success, according to Varga.
"Art evokes the heart and soul. It helps you to communicate from your heart, where the healing process begins."
Located at Lovelace Women's Hospital, Create to Heal classes take place on every second and fourth Saturday of the month from 10 a.m. - 11:30 a.m. They are open to any patients, family members or caregivers who wish to learn the process of healing through creativity. Call 255.0405 to register.