This is the story of Keesha Furniss, the Warrior Princess from Memphis, Tennessee.
Keesha Michelle Furniss was diagnosed with Stage 4 metastasized breast cancer in November 2013. At that time, Keesha was thirty years old and worked at a local daycare.
Metastatic breast cancer, also called stage IV or advanced breast cancer, is the most advanced stage of breast cancer and has spread beyond the breast to other parts of the body. The cancer cells break away from the tumor and travel through the bloodstream or the lymphatic system.
"By the time she was diagnosed at thirty, it was in about eight or nine places," explains Bob Furniss, Keesha's father. "It was in both lungs, both breasts and hips. It was a very aggressive cancer. Eventually, it spread to her back, liver and lungs," says Furniss.
Keesha's diagnosis was a complete surprise.
"Keesha had been sick for a couple of weeks and we didn't really think anything of it because she was working in a daycare. We all assumed she caught something from working with children and we thought her sore back was due to a pulled muscle. She had some breathing issues, which the doctor said was asthma, because she had asthma as a child. There was no outward knowledge but evidently, inside, her body was going crazy."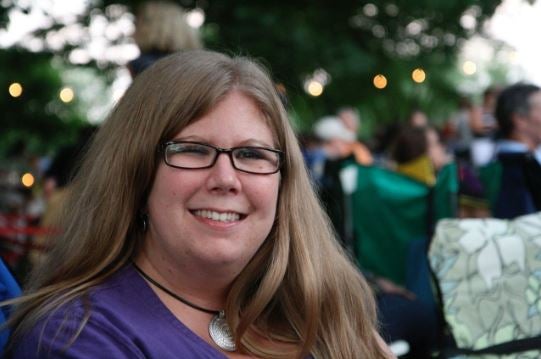 One day, Keesha's breathing was becoming extremely difficult. "I was out of town at the time, but she was having trouble breathing to the point of my wife saying, 'We need to go to the emergency room,'" says Furniss.
A simple x-ray of her chest changed the family's life forever. Tumors covered the thirty year old's chest. "Our daughter went into the hospital not breathing well, and came out with stage 4 breast cancer," remembers Furniss.
Over the course of four years, Keesha was on fourteen different chemotherapy regiments. Not once did Keesha allow cancer to break her spirit.
Her father began calling Keesha the "Warrior Princess," which became the name of her Facebook page, which was an avenue for Keesha to tell her story and provide updates of her journey to her family and friends. "She was just this bright, bright light. She wanted to live. She was the warrior who wanted to live," Furniss remembers.
As he watched his only daughter battle stage four cancer, Bob Furniss wanted to offer a distraction to his daughter.
"We would ask, 'If you could do anything, what would you do?' Keesha's answer was always to go see Luke Bryan."
Over the next four years, the super fan went to eight Luke Bryan concerts.
Her father laughs, "For goodness sake, she even knew Luke Bryan's dog's name. She was a Luke Bryan crazy fan."
Keesha's father did everything he could to get his daughter to meet Luke Bryan.
"I created a viral post back in 2016 that talked about Keesha and how much she wanted to meet Luke Bryan." The post spiraled across the internet and was brought to the attention of the country artist's manager.
Bryan's team reached out to the Furniss family and Keesha was given backstage passes. The Warrior Princess was finally able to meet her favorite singer.
Throughout her diagnosis, the country fan also attended Steeler's games, swam with dolphins in Cancun and went on a three week getaway to Colorado with her family in the mountains. But according to the father of the Warrior Princess, Keesha would've given up everything to see Luke Bryan again.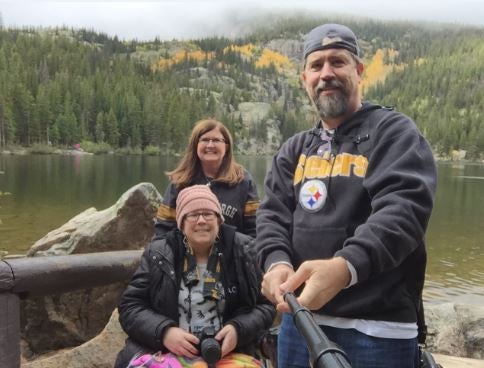 In April 2017, Keesha applied for a wish grant at Do It for The Love, a nonprofit organization that allows people with life threatening diseases and challenges to go to concerts. A friend recommended that she apply.
During the months that followed, Keesha never heard back from the nonprofit.
Keesha grew sicker and sicker in the months of October and November. During that time, the Warrior Princess missed an email with news that she won Luke Bryan tickets to a show in Albuquerque, NM the following April 2018.
The Warrior Princess stepped into heaven on November 28, 2017. "The fact that she lived four years was amazing. And she lived four years because she battled," her father shared.
Fast forward to April 5, 2018.
Melinda Maxwell was just getting out of a cancer treatment when she realized her phone had several missed calls. Maxwell is an Epic application analyst at Lovelace Health System, as well as the Patient Advocate for the Lovelace Cancer Center Committee. She realized the team at the Lovelace Breast Care Center was trying to get a hold of her. "Once I got out, I called and they asked me to get there right away because they had this wonderful gift for me," says Maxwell.
Aside from her role as Patient Advocate, Melinda Maxwell is connected to the Breast Care Center in another way. Melinda is a patient.
Melinda was forty-seven years old when she was diagnosed with Stage 3 Invasive Adenocarcinoma in September 2016, just three days before she would marry the love of her life, James Maxwell.
"On a Sunday night, a few weeks before the wedding, I noticed a large lump in the upper center of my right breast and showed it to my fiancé. We both agreed that it had not been there before and felt awful. That Monday morning, I called my OBGYN at Lovelace and got in that Thursday," says Maxwell.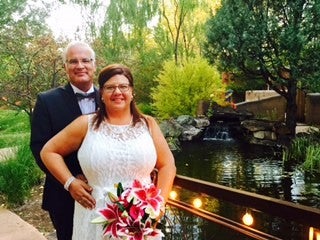 Maxwell has been in treatment since then, undergoing four out of six rounds of chemotherapy, twenty-eight rounds of radiation and three breast reconstructive surgeries. Maxwell is currently in a study that provides her with an oral chemotherapy drug that could possibly lower her chances of developing metastatic breast cancer. "Invasive cancer travels into the bloodstream and so, I can get metastatic breast cancer," explains Maxwell.
When she arrived at the Breast Care Center, Maxwell was presented with the tickets to the Luke Bryan show in Albuquerque.
Bob and Susan Furniss had sought out the Lovelace Cancer Center to find a patient who could enjoy the concert tickets. "Those tickets were gold in Keesha's mind," said her father. "We wanted someone in that seat. Keesha would've wanted someone in that seat."
"I had reached out to the organization to ask if I could try to find someone to use the tickets and they said yes. I told them, 'Well I don't know if I will or not, but expect me to try.'"
Furniss quickly researched 'women's cancer center in Albuquerque' and came across the Lovelace Cancer Center. Furniss picked up the phone and asked Whitney Marquez, Communications Manager at Lovelace Health System for a moment of her time to rehash the story.
Lovelace employees worked fast to seek out a patient who could enjoy the concert. Melinda Maxwell was the first to come to mind.
Melinda and her husband James attended the concert in Keesha's name.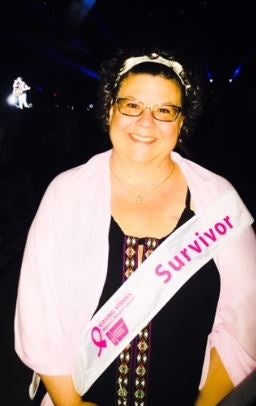 "While we were there, I reached out to my mom and my sister and we said a prayer for Keesha," shares Maxwell. "I talked to her the whole time I was there. I just knew she would be there enjoying that concert."
Though their daughter was unable to attend the concert, Bob and Susan Furniss were pleased that another breast cancer sister could enjoy the tickets. "The fact that it was a patient who also works in the cancer center makes it more incredible. It's amazing," says Furniss.
Following the concert, Melinda wrote to Keesha's parents, thanking them for the tickets and sharing her own battle with cancer.
Melinda's letter had a profound effect on the Furniss couple. "The letter brought back that it is okay to be fearful, but to also live life. It sounds like Melinda is one of those people. When Keesha was alive, we talked about how we'd get through each day and never looked ahead. We heard that in Melinda's letter."
Looking back at his daughter's diagnosis, Bob Furniss urges parents, specifically fathers, to encourage their daughters to see a gynecologist.
"We want to encourage women to go see a gynecologist, to understand that cancer doesn't have an age limit and to speak up when you have questions. We need to tell Keesha's story and let other survivors know that you have to want to live, it's more than medicine. It's bigger than medicine."
Keesha's father adds, "Someone told us recently that Keesha lived more life in 34 years than most people did their entire lives. We're so proud of the woman she was."
Together, we can all #LiveLikeKeesha.
To schedule an appointment with a Lovelace Medical Group women's health provider, call 505-727-2727.