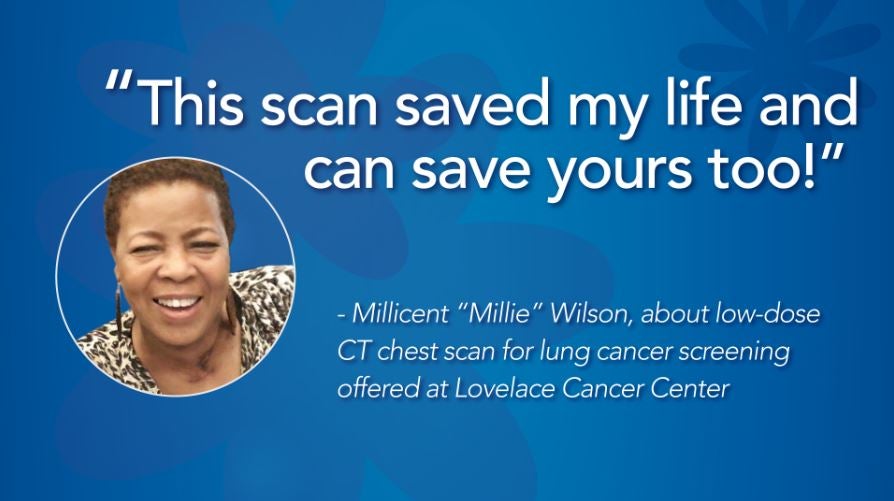 Millicent "Millie" Wilson, 60, was watching television one evening when she came across a commercial about a low-dose CT chest scan offered at Lovelace Cancer Center.
"Knowing that I smoked cigarettes for over 40 years, I researched online to see if I qualified for the low-dose CT scan," said Millie.
The $99 low-dose CT chest scan for lung cancer screening is simple, effective and can improve the outcome with early diagnosis.
Millie shared, "When I found out that I qualified, I got in touch with my primary care physician and asked him to order a scan for me."
When it was time for the low-dose CT scan in April 2018, Millie said, "It was explained to me very thoroughly what I was going to be experiencing and what they were looking for. It was no worse than a regular chest x-ray."
In the days following the CT scan, Millie received unsettling news about her results.
"They found a large cavitary mass in my lung that was about 6 cm wide. After multiple tests, including a PET (positron emission tomography) scan and biopsy, it was confirmed as non-small cell adenocarcinoma. I was devastated," shared Millie. "It was unbelievable news to hear."
Non-small cell adenocarcinoma is the most common type of lung cancer and occurs mainly in current or former smokers.
Wilson's PET scan showed activity in the right upper lobe and in a lymph node in her right groin. Her doctors agreed surgery would be Millie's best option. "I went through a lot of testing to make sure that my body could withstand losing an entire lobe of my lung. I was cleared, but there were still risks with surgery," she said.
"If it was not for that low-dose CT scan that I insisted on, I don't think the cancer would have been found anytime soon. They did a regular chest x-ray at some point and the mass wasn't even visible on that," stated Millie.
Millie's surgery was performed by New Mexico Heart Institute cardiothoracic surgeon, Dana A. Booth, MS, MD, on June 8, 2018. "Dr. Booth is unbelievable. I could not have asked for any more than what I received from him. He was so kind and caring. It was like he was taking care of a family member," said Millie.
"They took out seventeen lymph nodes and not one of them had any sign of cancer. Thankfully, the cancer did not spread and it was only in right upper lobe," explained Millie.
"Without that low-dose CT scan, I could be my mother or brother who both passed away from lung cancer. Their deaths were over ten years ago and unfortunately, this scan wasn't available at that time. By the time they were diagnosed, it was too late."
Following her surgery, Millie was diagnosed with stage 2B lung cancer and will soon begin chemotherapy at Lovelace Cancer Center and participate in a clinical trial. The mother of two and grandmother of five is hopeful for a cancer-free life. "Even if there's one cancer cell in my body, our hope is that I will have enough chemo in my body to get rid of that one cell, and I will live a long and healthy life with no chance of it coming back."
As she continues to recover, Millie is excited to start singing again. "It's very therapeutic and helps me build up my pulmonary system."
Millie feels determined to share her experience with other smokers, in hopes that they will be proactive in making their lung health a priority. "I've been telling everyone I know and even strangers that this scan saved my life and can save yours too! I keep brochures in my purse and give them out to people all the time."
"I'll now be able to see my grandchildren have children. Without that low-dose CT scan, my life would be so much shorter. Everyone who qualifies needs to have the CT scan done, especially if you've ever smoked. I stopped smoking on May 17th and haven't looked back since."
T
o schedule your CT scan and see if you qualify for a no-cost CT scan, request a referral from your primary care physician and call 505.727.3086, or fill out the form
here
. If you are a current smoker and need help quitting, please visit
QuitNowNM.com
or call 1-800-QUIT-NOW.